Today we have a guest post about the importance of nature based play by early childhood educator, mum of two and director of Soundsations, Amie Hankinson where she shares her #1 tip for getting children outdoors.
Avoiding Nature Deficit Disorder – A Practical Tip for Busy Parents
by Amie Hankinson
We all know that time in nature is good for us.  It teaches us to slow down, pay attention and look after the world and our own mental and physical health.  Time in nature energises, rejuvenates and heals.  But increasingly human beings, especially children, are spending less time outdoors resulting in a wide range of behavioral problems.  In fact, this is known as Nature Deficit Disorder (a term coined by Richard Louv from his book 'Last Child in the Woods').
The Problem
There's a quote that's been circulating in my newsfeed this week and you might have also seen it:
"Children cannot bounce off the walls if there are none"

– Erin Kenny
It's usually paired with a beautiful heart-felt image of children happily playing amongst the woods.  Every time I see it I feel so many emotions; it makes me want to run off the grid with my family and spend our days hunting and gathering.  Yet the biggest feeling that arises is guilt; a little something I like to call mummy guilt!
You've felt it right? In fact I think we all have.  We are constantly feeling torn between spending quality time with our children outdoors and getting our never-ending list of jobs done.  It would be lovely if we could spend all day outside playing, researching flora and fauna and climbing trees.  However the reality is that most of us have to work to support our families and ensure the household functions smoothly.
The Solution
Im a HUGE Nature Play advocate because I know the immense benefits of immersing the whole family in nature.  I'm also a working mother that needs to get sh*t done.  I'd love to share a tip with you on how I balance both aspects and introduce you to something I created to help support me.
When my second child was just 4 months old I was diagnosed with Post Natal Depression and Anxiety. I searched for holistic therapies to help get my mind healthy again and I came across 'Nature Therapy'.  As a Teacher and Nature Play advocate I was very familiar with the benefits of outdoor play for children, but what took me by surprise was the complementary effects on the mother also.  I knew from then on that the answer to helping overcome my mummy guilt was literally right outside my door!
Number 1 Tip
My number one tip for struggling mums is to GET OUTSIDE first thing in the morning.
We used to wake up and watch TV whilst I drank my coffee in the morning, and I admit that it did take a while to change this habit. However we are now free of it.
Each morning we select one card from our deck of Nature Play Prompts and complete an activity. Some mornings take 2 minutes and some take 20 minutes (I take my morning coffee outside with me ?).
By getting outside first thing in the morning and putting complete focus on my children (leave your phone inside) I get to fill their cup.
Getting outside also helps refresh your mind and is proven to help lower your stress hormones.  Getting outside first thing in morning will set you and your family up for a positive, more productive day.
About the Author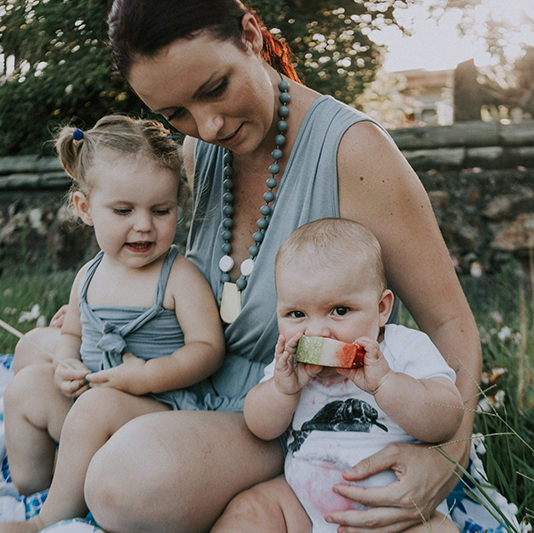 Mum of two, Amie Hankinson is the creator of Nature Play Prompts – activity prompt cards that inspire creativity, mindfulness, and a passion for nature play. Each card encourages questioning, investigation and curiosity to help get your little ones brain stimulated.
Amie founded Soundsations in Queensland which offers programs to reconnect families with nature-based sensory play and eco-friendly play resources that promote children's natural curiosity to explore, play and learn.
Connect with Amie on Instagram and Facebook or sign up to the Soundsations newsletter to learn more about Nature Based Play.